There's no telling what the road might throw at you from day to day. So, it's always good to know where to find a reliable automotive service center near Clintonville, WI
At Klein Auto, we're happy to take care of all your service needs, whether they be big or small.
Reliable Service near Clintonville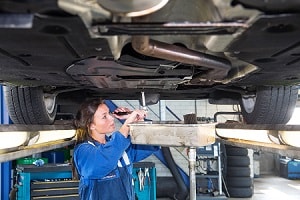 Your car is special to you. It's the thing that gets you from Point A to Point B on a daily basis. So, it's understandable that you'd want only the very best care when it comes time for service.
The factory-certified technicians at our service center are committed to treating your car is if it is their own. Using their knowledge and experience, they'll give the car a proper diagnosis and have it back on the road in a timely manner.
They're also happy to take care of all those small yet essential maintenance jobs. You know the ones: oil changes, tire rotations, and so much more. These are the key to vehicle longevity, and our technicians will take care of them all.