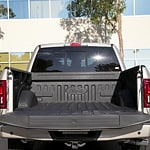 You don't have to be a truck expert to understand that the Ford F-150 is the truck that you want in your garage. People from Clintonville, Winneconne, and beyond are buying this truck for its capabilities. They see it as the gold standard of what a performance vehicle should be.
Used in both the military and industrial settings, the Ford F-150 is a machine like no other. It performs well because it has some features such as the Hill Descent Control, off-road shock absorbers, and skid plates. All of these elements make it a little more capable of handling off-road conditions or getting some other type of job handled for you.
Finally, enjoy the 360-degree camera that makes it possible to see completely around the truck from inside the cab whenever you need to park in into a tight spot somewhere. This technology feature can save you from scrapping up your new truck.