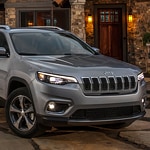 Some vehicles were not made to be driven off-road, but the Jeep Cherokee is definitely not one of them. This is a popular compact SUV that you will enjoy driving on a country road filled with dirt just as much as you will through the streets of Clintonville, WI. There are also quite a few capability features that make the Cherokee really shine.
You will find that this is an SUV that has a great deal of traction. There is even a 4X4 feature that will allow the traction to shift based on the type of terrain that you are driving over. This will give you much more assurance as you drive over some rough roads.
There is also tremendous ground clearance with the Jeep Cherokee. This will keep the underside of your vehicle safely away from large objects you might be driving over as you travel. When you visit Klein Auto, you can take this SUV on a test drive.